پروفسور محمد حسین سلطان زاده

استاد دانشگاه علوم پزشکی شهید بهشتی
متخصص کودکان ونوزادان
طی دوره بالینی عفونی از میوکلینیک آمریکا
دبیر برگزاری کنفرانس های ماهیانه گروه اطفال
دانشگاه علوم پزشکی شهید بهشتی

دكتر زهرا چاوش زاده

دكتر محبوبه منصوري

فوق تخصص ايمونولوژي والرژي

به اتفاق اعضاي هيئت علمي بيمارستان مفيد

خانم دكتر شكوفان عليزاده

رزيدنت بيمارستان مفيد

اقاي دكتر منصور كمالي

رزيدنت بيمارستان امام حسين

خانم دكتر ميترا تفكري

رزيدنت بيمارستان لقمان

اقاي دكتر جوادزاده

اقاي دكتر تنكابني

فوق تخصص اعصاب كودكان
پاسخ:
تشخيص هاي افتراقي:
دكتر محبوبه منصوري
فوق تخصص ايمونولوژي والرژي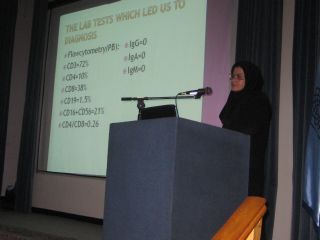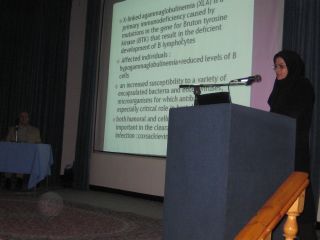 The Lab tests which led us to diagnosis
ž Flowcytometry(PB):
ž CD3=72%
ž CD4=10%
ž CD8=38%
ž CD19=1.5%
ž CD16+CD56=21%
ž CD4/CD8=0.26
ž IgG=0
ž IgA=0
ž IgM=0
ž X-linked agammaglobulinemia (XLA) is a primary immunodeficiency caused by mutations in the gene for Bruton tyrosine kinase (BTK) that result in the deficient development of B lymphocytes
ž Affected individuals : hypogammaglobulinemia+reduced levels of B cells
ž an increased susceptibility to a variety of encapsulated bacteria and enteroviruses, microorganisms for which antibody plays an especially critical role in host defense
ž both humoral and cellular immunity are important in the clearance of entroviral infection :coxsackieviruses
Diagnostic criteria for XLA
ž 1) a mutation in the BTK gene and/or defective expression of the BTK protein or
ž 2) a positive family history of a maternally related lateral male relative with XLA (for example, either a mutation of the BTK gene or defective expression of the BTK protein or markedly reduced numbers of B lymphocytes in their blood [<2%] and hypogammaglobulinemia) or
ž 3) markedly reduced numbers of B lymphocytes in their blood (<2%) and hypogammaglobulinemi
The time of the first infection in XLA
ž Over half of the patients developed symptoms referable to their immunodeficiency before 1 year of age,
ž and more than 90% by 5 years of age
ž Fewer than 10% had symptoms in the first 3 months of life
The most common infection :
ž otitis media( 70% )
ž Pneumonia ( 62% )
ž sinusitis (59%)
ž chronic and/or recurrent diarrhea (23%)
ž conjunctivitis (21%),
ž infections of the skin and subcutaneous tissue(18%)
ž meningitis/encephalitis (11%)
ž sepsis (10%)
ž septic arthritis (7%)
ž hepatitis (6%),
ž and osteomyelitis (3%)
ž Two patients were reported to have had vaccine-associated paralytic polio
Entroviral infection in XLA
ž Although the majority of infections were caused by common encapsulated bacteria, there are some infections that deserve special attention
ž Enteroviral infections, such as Coxsackievirus and ECHOvirus, Polio virus have been especially difficult infections in patients with XLA
ž The infections are usually chronic and systemic in nature
ž Their primary clinical manifestation is encephalitis/meningitis
ž hepatitis, pneumonia, and dermatomyositis have also been seen
ž Enteroviral meningoencephalitis is a life-threatening infection in X-linked agammaglobulinemia
enteroviral infection in immunodeficiency
ž encephalitis/meningitis,:Nuchal rigidity is present in fewer than 70 percent of patients ,Photophobia, nausea, and vomiting and severe headache
ž persistent daily headache, irritability, vomiting and fever for 1 month
ž mild dementia, torticollis, bilateral optic atrophy
ž a combination of pyramidal and extrapyramidal deficits in the limbs
ž A cranial CT scan showed a communicating hydrocephalus with dilatation of the entire ventricular system
ž myeloradiculitis, polyradiculitis, retinitis, or ventriculitis
ž one case of severe rhabdomyolysis attributed to Coxsackie B in AIDS
ž multiple sclerosis (MS) or a MS-like condition In AIDS
CEMA
ž More recently the complication has acquired the acronym CEMA (chronic encephalitis and meningitis with agammaglobulinaemia).
ž Human enteroviruses can cause persistent CNS infection in B-cell-defcient patients. Despite ongoing IVIG therapy there is evidence of viral persistence as detected by PCR leading to progressive neurological deterioration in many patients
ž For immunodeficient patients receiving immunoglobulin replacement therapy, the features of CEMA can be subtle and insidious.
ž This is probably due to partial neutralisation of the virus by antibodies in pooled immunoglobulin
ž PID patients show subtle intellectual or personality changes
ž Unlike the more dramatic and usually fatal systemic enteroviral infection that sometimes occurs in infants, CEMA often progresses slowly over many years with episodes of partial remission.
ž Nethertheless, a recent survey shows that about half of the 72 patients described in the literature had died between 2 and 5 years after onset of symptoms
Diagnosis
ž PCR on CSF is a sensitive and specific tool
ž A negative PCR on CSF does not necessarily exclude the diagnosis and at least another sample of CSF should be tested if enteroviral infection is suspected.
ž Enteroviruses have been found in the stools and urine of some patients
ž and occasionally have been cultured from muscle biopsies in those with myositic features.
Treatment
ž long term and 'high dose ' intravenous gamma globulin (IVIG)
ž intraventricular gamma globulin (one patient)
ž pleconaril (an antiviral drug )
ž 'high dose' immunoglobulin therapy for complications outside the CNS ( myocarditis, myositis)
ž There is one report of alpha-interferon apparently curing enteroviral myocarditis in two patients following heart/lung transplantation although there is no evidence yet that alpha-interferon given systemically will inhibit viral replication in the brain
ž echovirus 71 (in the 2001 Taiwan epidemic )is resistant to pleconaril
treatment
ž since these RNA viruses can rapidly mutate to become resistant to drugs, combinations of drugs are likely to offer the best chance of cure and protection in the future.
ž monoclonal antibodies to the prevalent enteroviruses in the community could be developed
ž Following reports of paralytic poliomyelitis in PID patients after oral polio vaccination (OPV) in the 1960s (Wyatt,1973)
ž all patients with PID were advised against having live attenuated viral vaccines
ž In fact, only a few patients given OPV developed paralytic disease, suggesting that additional Unknown susceptibility factors had predisposed these patients to paralysis
خانم دكتر شكوفان عليزاده
رزيدنت بيمارستان مفيد
Case presentation
• :PI بیمار پسر 21 ماهه ای که از 7 ماه پیش بدنبال اتیت و
8 نوبت تزریق سفتریاکسون دچار پسرفت تکاملی وهمی پارزی سمت راست شده بطوریکه قادر به نشستن و ایستادن نبوده و دچارحرکات پرشی در سمت راست بدن میگردد که غالبا در حالت بیداری اتفاق می افتاده و درخواب وجود نداشته است . همچنین از یک ماه قبل مراجعه ، دچار staring بوده است. در سیر بیماری دچار تب وتورم مچ پای چپ نیز می گردد.
• :PMHبیمار فرزند اول و حاصل زایمان سزارین از والدین منسوب (پسر عمه ،دختر دایی) بدون آسفیکسی و ایکتر بوده است. خس خس سینه از بدو تولد داشته و تا کنون تحت درمان با اسپری های استیروئیدی نیز بوده است.
رشد وتکامل تا 7 ماه قبل از مراجعه کاملا نرمال بوده است.
Drug H:
phenobarbital phenytoine
Na Valproate Carbamazepine
Clonazepam

ceftriaxone ceftazidime
Co-trimoxazole Vancomycin

spray Floxitide Ventolin
Vitamins

P/E :
FTT / Respiratory distress / Clubbing
RR=30 PR=130 BP=90/60 T=35.9
weight=7.5 kg
Heart sounds NL Abdomen NL
Chest coarse rales in the base of both lungs
Neurologic findings: Hypotone /DTR++ / Downward plantar Reflex / Right Hemi paresis / Myoclonic Seizure in right upper limb more than 30 /min
• CBC: WBC:4x10³/ µl
• RBC=2.99x10-6/ µl HGB=9g/µl HCT=29.8 %
• MCV=99.7 fl MCH=30.1 pg MCHC= 30.2g/dl
• Plt=379x 10³/µl poly=34% lym=62% mono= 4%
• ESR=12
HIV ab=neg
• entrovirus RNA PCR in CSF =neg
• CRP=3+ then became neg BC= no growth
• ABG: PH=7.39 pco2=20 HCO3=12.3
• Bs=72 BUN=9 Cr=0.3 Na=139 k=4.7 ca=8.6 p=4.4
• Alk.ph=616 SGOT=17 SGPT=13 total pro=8.4 alb=4.6
• Bil total= 0.4 Bil direct= 0.1 wright & 2ME= neg widal test =neg
• U/A= normal stool exam =except than few yeast was normal .
• Sweat chloride test =neg anti TTG & anti gliadin =NL
• EEG = NL Metabolic work up = Nl
• Chest x-ray= Normal
• bone x-ray =bone density is decreased
• Abdominal ultrasonography : normal
• Echocardiography= normal
• Barium swallow: regurgitation was seen no gasteroesophagial reflux was seen.
• Problem list :
• Right Hemiparesis
• Myoclonic seizure in right upper limb 30/min
• Regression & Hypotonicity
• Sever FTT
• Clubbing
• Respiratory distress
• Macrocytic Anemia
• Compensated metabolic acidosis
Missing points
• Neurological examination isn't described well. Retinal examination is missing too.
• Head circumflex & body weight at birth?
• Serum CL is necessary to obtain anion gap?
• Because of the focal seizure in the patient , Brain imaging should be down at the first step.
• Respiratory distress? CXR NL / RR=30? Pco2=20!
• LP ?
• Coagulation tests?
• Approach to Hemiparesis
• Vascular :
• - CHD (VSD / AS /PFO /MS)
• Acquired heart disease ( RF / Prosthetic Heart valve / Arrhythmia)
• Increase or decrease clotting factors
• Infectious Vasculitis (meningitis: TB / VZV/HIV MYCOPLASMA/ ASPERGILOSIS)
• Non infectious Vasculitis (PAN /Wegner/ SLE/ IBD)
• Metabolic disorder (Homocystinuria/ MELAS )
• Non Vascular:
• Encephalitis
• Brain Abscess
• Malignancy and mass effect
• Trauma
Congenital / acquired Heart Disease
v In favor of :
-clubbing
- FTT
- Metabolic Acidosis
v Against of :
- NL Heart sounds
- NL Echocardiography
- Usually they have polycythemia
- Cyanotic heart disease / valvular heart disease / arrhythmia / Bacterial Endocarditis
- Increase or decrease clotting factors
- Against of :
- NL CBC
- No hemorrhagic / clotting history (but it can't R/O it)
- NL BP
- Coagulation tests?
- Infectious Vasculitis
(Meningitis: TB /HIV /Mycoplasma / Aspergilosis /VZV)
- In favor of:
- Seizure & Regression
- Hypotonia
- Otitis in history
- Immunodeficiency( inhale corticosteroid spray / FTT)
- against of :
- HIV ab = Neg
- NL ESR ( But it can ruled it out)
- No Rash (against of VZV)
- CT ?LP?
- PPD?
- Gastric washing?
- IBD & celiac
- In Favor of:
- FTT
- Clubbing
- Metabolic Acidosis +/-
- Macrocytic Anemia +/-
- Against of:
- NL S/E
- Anti TTG & Anti Gliadin NL
- The history of Bowel habit is missing
- Non Vascular Reasons
* Encephalitis
- In Favor of:
- Regression
- Hypotonia
- Against of:
- entrovirus RNA PCR in CSF =neg
- There isn't Lack of consciousness
- LP?
- *Brain Abscess
- In Favor of:
- Regression
- Hypotonia
- seizure
- Fever
- History of otitis
- Immunodeficiency
- Brain CT Scan?
- Macrocytic Anemia :
- Phenytoine
- Co-trimaxazole
- Vit B 12 deficiency
- Folat deficiency
- Clubbing:
- Pulmonary disease(COPD / CF/ pulmonary fibrosis / lung abscess)
- Cardiovascular( cyanotic heart disease)
- Gastrointestinal (cirrhosis / IBD)
- Infectious ( Endocarditis)
- Renal (RTA / CRF / DI)
- Neoplastic( Hodjkin's Lymphoma /Graves)
- Antibiotics esp. penicillin can provoke seizure because of beta-lactam . cefteriaxon can cause seizure too, but it's less than penicillin.(less than 1%)
-
D.Dx of Treatable disease in order to the history + P/E + para clinic findings :
- Infectious vaculitis( Meningitis :TB / Mycoplasma /Aspergilosis)
- Brain abscess
- Homocystinuria
- Coagulopathy /Hemoglobinopathy
- evaluation :
- Brain imaging
- Lp
- Coagulation tests
اقاي دكتر منصور كمالي
رزيدنت بيمارستان امام حسين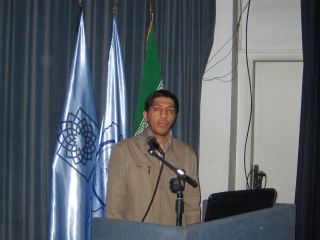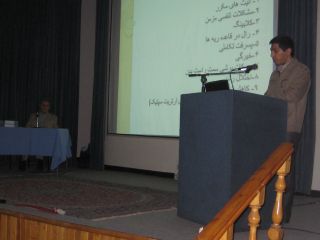 لیست مشکلات بیمار

1- اتیت های مکرر
2-مشکلات تنفسی مزمن
3-کلابینگ
4- رال در قاعده ریه ها
5-پسرفت تکاملی
6-خیرگی
7-حرکات پرشی سمت راست بدن
8-اختلال رشد
9- کاهش تون عضلانی
10-تب و تورم مچ پای چپ ( احتمال آرتریت سپتیک)

11- کاهش تراکم استخوانی
Hb=9
MCV=99.7
WBC= 4000
Poly= 34
L= 62
تشخیص های افتراقی
X- linked agammaglobulinemia
:نکات مثبت
1- اتیت مدیای مکرر
2-پنومونی
3- همی پارزی
4- اختلال رشد ( کمبود هورمون رشد )
نکات منفی:
سن: معمولاً در سن 9-6 ماه ظاهر می شود
CVID
شواهد مثبت:
1-اتیت مدیای مکرر
2-پنومونی
3-همی پارزی راست
4- آنمی مگالوبلاستیک
5- نسبت فامیلی پدر و مادر
Hyper IGM 1
:شواهد مثبت
1- اتیت مدیای مکرر
2- پنومونی
3- نوتروپنی
4- سن
:شواهد منفی
همی پارزی سمت راست
SCID
شواهد مثبت
1- اتیت مدیا
2- پنومونی
3- اختلال رشد
4- لنفوپنی
شواهد منفی
1- سن
2- اسهال از علایم شایع این بیماری است
تست های آزمایشگاهی
1- اندازه گیری ایمونوگلوبولین ها
2- فلوسیتومتری
خانم دكتر ميترا تفكري
رزيدنت بيمارستان لقمان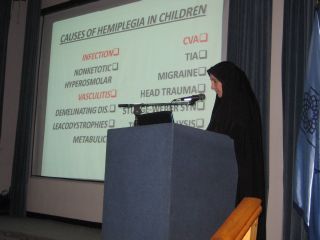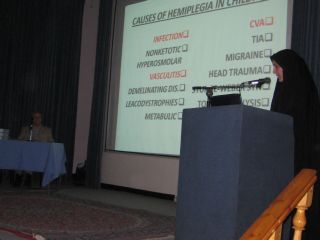 Problem list
q BOY / 21 MO / F.T.T
q OTIT IS MEDIA that un response to usual Tx
q FOCAL MIOCLONIC SIEZURE + HEMIPLAGIA
q RESPIRATORY DISTREE
q CLUBBING
q METABULIC ASIDOSIS
q MILD NEUTROPENIA & LYMPHOPENIA
q ANEMIA
CAUSES OF HEMIPLEGIA IN CHILDREN
q CVA
q TIA
q MIGRAINE
q HEAD TRAUMA
q STURGE-WEBER SYN
q TODD,S PARALYSIS
q BRAIN TUMOR
q INFECTION
q NONKETOTIC HYPEROSMOLAR
q VASCULITIS
q DEMELINATING DIS.
q LEACODYSTROPHIES
q METABULIC
Epilepsy Difficult to Control DDX
q AVM
q SUBDURAL.H
q NON COMPLIANCE.Tx
q FOCAL.CNS.DIS
q INFECTION:
BRAIN ABSCESS
q POST TRAUMATIC
q DRUG
Diseases associated with bilateral clubbing
q Neoplastic
q Pulmonary
CF /ASBESTOSIS/
H.P/IPF/AVM
q Cardiac:CHD
q G.I :
• IBD /Liver disease Celiac sprue/ Juvenile
• polyposis coli
q Infectious
• endocarditis
• TB
• Parasite Inf. Chronic
• HIV
q Vascular
q Endocrine
CHILD WITH AN IMMUNDEFICIENCY
q Family history of immunodeficiency
or unexplained early death
q failure to thrive
q Six or more new infections within 12 months
q Two or more serious sinus infections or pneumonias within one year
q Need for intravenous antibiotics and/or hospitalization to clear infections
CHILD WITH AN IMMUNDEFICIENCY
q Recurrent tissue or organ abscesses
q Infection with an opportunistic organism
q Complications from a live vaccine
q Chronic diarrhea
q Nonhealing wounds
q Persistent lymphopenia
q Unexplained autoimmunity
IMMUNODEFFICIENCY
T CELL DEFFICIENCY
BCELL DEFFICIENCY
COMPLEMENT DEFFICIENCY
PHAGOCYTIC DEFFICIENCY
DEFFICIENCY ANTIBODY
q XL AGAMMAGLOBULINEMIA
q AR AGGAMMAGLOBULINEMIA
q HYPER IgM SYNDROM
q SELECTIVE IgA DEFFICIENCY
q CVID
OTHER IMMUNE DEFFICIENCY
q ATAXI TELANGIECTASIA
q DIGEORGE ANOMALY
q HYPER IgE SYNDROME
q CID
q JOb syn
q TORCH
q SCID
q CGD
q COMPLEMENT DEFFICIENCY
q METHYL MALONIC ACIDEMIA
q G.S.D TYPE 1
q WISKOTT-ALDRICH SYN
SPECIAL PHYSICAL FEATURES ASSOCIETED WITH
IMMUNODEFICIENCY
q RECURRENT ABSCESS : CGD / HYPER IgE
q CLUBBING :
DEFFICIENCY Ab CHRONIC LUNG DIS. DUE TO
q ARTHRITIS:
Ab DEFFICIENCY / HYPER IgM /
q NEUTROPENIA :
HYPER IgM / WISKOTT ALDERICH
LABORATORY TEST IN
IMMUNE DEFFICIENCY
q B CELL DEFFICIENCY
IgG / IgM / IgA / IgE LEVEL
Ab RESPONSE TO VACCINE
q T CELL DEFFICIENCY
LYMPH . COUNT / CHEST X RAY / DELAY SKIN T
q PHAGOCYTE DEFICIENCY
WBC COUNT / RESPIRATORY BRUST ASSAY
q COMPLIMENT DEFFICIENCY
CH50 /C3 LEVEL / C4 LEVEL
SUMMERY
• BOY + FTT +CLUBBING +NEUTROPENIA
• CHRONIC CNS DISORDER
• R/O SOLID .T & ABSCESS
• OTITIS MEDIA : MASTOIDITIS : PARA MENANGEAL FOCI : ABSCESS
• IMMUNE DEFFICIENCY+ BOY
ONE TEST
CHECK OF Ig
اقاي دكتر جوادزاده
فوق تخصص اعصاب كودكان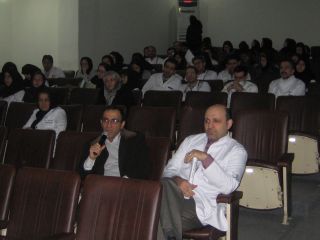 اقاي دكتر تنكابني
فوق تخصص اعصاب كودكان