پروفسور محمد حسین سلطان زاده

استاد دانشگاه علوم پزشکی شهید بهشتی
متخصص کودکان ونوزادان
طی دوره بالینی عفونی از میوکلینیک آمریکا
دبیر برگزاری کنفرانس های ماهیانه گروه اطفال
دانشگاه علوم پزشکی شهید بهشتی

اقاي دکتر

سيد احمد طباطبائي
فوق تخصص ريه عضو هيئت علمي

به اتفاق اعضای هیئت علمی بيمارستان

كودكان مفيد

خانم دكتر الهه موحدي

رزيدنت بيمارستان مفيد

خانم دكتر مينا دادخواه

رزيدنت بيمارستان لقمان

خانم دكتر مريم مخملباف

رزيدنت بيمارستان شهدا

خانم دكتر سولماز حسني

رزيدنت بيمارستان امام حسين

اقاي دكتر صدر

فلوشيپ ريه

اقاي دكتر مصلحي

فلوشيپ ريه

اقاي دكترغفاري پور

فلوشيپ ريه

اقاي دكتر جفرودي

عضو هيئت علمي بيمارستان شهدا

خانم دكتر منصوري

فوق تخصص ايمونولوژي

عضو هيئت علمي بيمارستان مفيد
اقاي دکترسيد احمد طباطبائي
فوق تخصص ريه عضو هيئت علمي
به اتفاق اعضای هیئت علمی بيمارستان
كودكان مفيد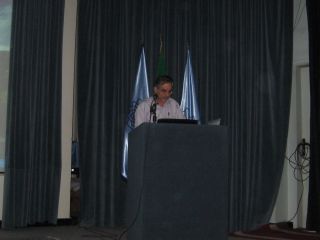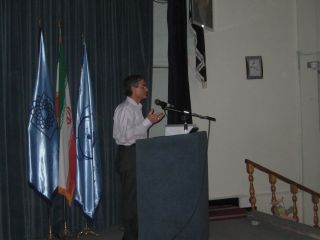 تشخيص:
Post Operative
TEF
تشخيص هاي افتراقي:
خانم دكتر الهه موحدي
رزيدنت بيمارستان مفيد

Question remind unclear about case
Trend of growth?
Recurrent infectious (pneumonia or AOM or sinusitis,…)?
Symptoms after vaccination?
Hx of diseases in other sibling
Leg pain?
Hx of trauma?
Night sweating, exertional dyspnea, cough
Cyanosis, Clubbing?
Parental relative?
Drug Hx?
Diff- U/A-BS-LFT
EOSINOPHILIC LUNG DISEASES
(PIE)
Early description :
pulmonary symptoms or CXR abnormalities and
PB eosinophilia
After 1970 description :
characterized by increase in BAL eosinophil number but not necessarily blood eosinophils
Some affect the airways predominantly, some affect the lung parenchyma, and some affect predominantly the lung vasculature.
From subtle symptoms and are self-limited to respiratory failure.
Subtype:
Group I, Löffler syndrome or simple pulmonary eosinophilia
Group II, prolonged pulmonary eosinophilia
Group III, Weingarten's syndrome or tropical eosinophilia
Group IV, pulmonary eosinophilia with asthma
Group V, polyarteritis nodosa
Parasitic infection (Ascaris) & drug reactions are currently an important etiology
No cause in 1/3 of cases
Mild febrile illness with myalgias ,nonproductive cough, and dyspnea.
No abnormalities on physical examination, but sometimes a few crackles or wheezes are heard
Parasites That Cause
Eosinophilic Lung Disease
Ancylostoma sp.
Ascaris sp.
Echinococcus sp.
Schistosoma sp.
Strongyloides stercoralis
Toxocara sp.
Trichinella spiralis
Wuchereria bancrofti
Patients with Ascaris infection are usually febrile with a nonproductive cough and chest pain. In severe cases hemoptysis occurs.
CXR: abnormalities are usually bilateral and peripheral, pleural based
Parasites and ova are sometimes found in the stool after the resolution of the pul. illness
larvae can be isolated from gastric aspirates or sputum
Weingarten = tropical eosinophilia =
severe spasmodic cough, massive peripheral eosinophilia, diffuse mottling in both lungs
endemic in India, Sri Lanka due to Wuchereria bancrofti
DRUG-INDUCED
Cough, dyspnea, and fever
Histologically : interstitial edema with a lymphocytic and eosinophilic infiltrate, (alveoli contain eosinophils and histiocytes)
CXR show interstitial or alveolar infiltrates and Kerley B lines
Skin testing with either patch or prick tests is usually negative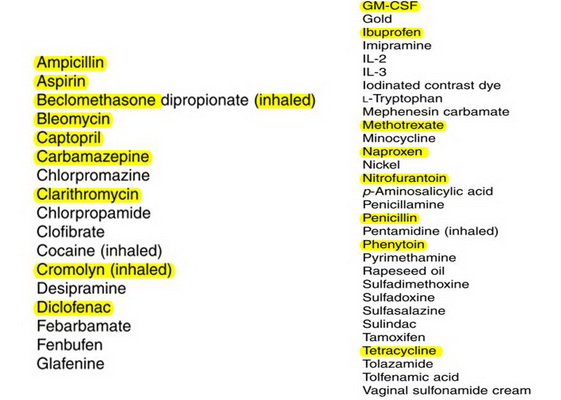 ACUTE EOSINOPHILIC PNEUMONIA
Idiopathic
febrile illness of 1 to 5 days + myalgias, pleuritic chest pain, and severe hypoxemia
basilar or diffuse crackles
CXR: diffuse alveolar infiltrates involving all lobes
Small to moderate-sized pleural effusions are common
CHRONIC EOSINOPHILIC PNEUMONIA
middle-aged women
fever, night sweats, weight loss
cough, dyspnea, and wheezing (asthma)
lymphadenopathy and hepatomegaly
Pb & BAL eosinophil
ESR & IgE is elevated
CXR; bilateral, peripheral infiltrates negative image of pulmonary edema =dignostic
CT : peripheral airspace disease and may show hilar lymphadenopathy
ALLERGIC ANGIITIS AND GRANULOMATOSIS
allergic rhinitis and asthma for years
peripheral eosinophilia with values up to 80%
small and medium-sized arteries and veins.
sinusitis, rhinitis, and nasal polyps
GI:abdominal pain, diarrhea, bleeding, and obstruction;
cardiovascular: pericarditis, and heart failure.
Renal
CNS
CXR: patchy and transient infiltration
Eosinophilic pleural effusions and hilar adenopathy
IDIOPATHIC HYPEREOSINOPHILIC SYNDROME
elevated eosinophila for >6 months,
or for <6 months with evidence of organ (heart) damage
most common in adults 20 to 50 years - male
ABPA
1% to 2% of asthmatics and 7% to 9% of cystic fibrosis
Minimal Diagnostic Criteria:
Acute or subacute clinical deterioration
Total serum IgE >500 IU/mL
Immediate cutaneous reactivity or RAST
(a)IgG antibody to A. fumigatus; or (b) new or recent abnormalities on CXR or chest CT that have not cleared with antibiotics and standard physiotherapy
Hypersensitivity Pneumonitis
HP = extrinsic allergic alveolitis
recurrent inhalation of organic antigens
pet birds – molds (Aspergillus, Penicillium)
mean age=10 y
Male
flu-like syndrome with fever, chills, cough, myalgias, and malaise
leukocytosis with neutrophilia, elevated CRP & ESR
ill appearing child with dyspnea and basilar crackles
CXR : bilateral lower lobes reticulonodular infiltrates
CT: ground-glass appearance and centrilobular nodules
Acute eosinophilic pneumonia, P. carinii pneumonia, and some drug induced lung diseases have Eosinophils in the BAL fluid
Acute & chronic eosinophilic pneumonia, ILD, and tropical eosinophilia usually lead to a restrictive defect
Immunologic:
+ve: Weigh + Aspergillosis
CGD
Hyper IGE (skin-face-teeth-AOM-pneumonia-staph pneumatoceles-mucocutaneous candidiasis)
Rheumatology:
+ve: Weigh + kidney
PAN (heart-joints-skin-GI-Renal-eye lung-CNS-PNS)
JRA
SLE
DDx lung consolidation + lymphangectasis may include :
Obstractions
Infections
Aspergillosis (invasive/infection or allergic)
Ascariasis
Hydatid cyst
TB
Blastomycosis
Cryptococcosis
IDDM
CGD
ABPA (CF)
Lymphoma
TB
PAN-JRA
HIV
TEST
BS
NBT or DHR àCGD
SCT
IgE - Prick test –
PFT
Lung Biopsy
خانم دكتر مينا دادخواه
رزيدنت بيمارستان لقمان
به نام خداوند بخشنده و مهربان
P.I
Female /6 y.o
Wheezing/cough (righte now)/Fever
Cough and wheezing from neonate period
Congenital esophageal atresia
primary repair of a congenital EA w/o TEF on the first day of her life.
recurrent pneumonia and wheezy episodes
barium swallow:NL
unresponsiveness to anti-asthmatic and anti-biotics and anti-reflux treatment
Weight loss
No allergy
CXR: straggly &bilateral , brief grand glass appearance
CT-SCAN: segmental collapse and alveolar infiltation in lower parts
Bilateral diffuse nodular opacities and tree in bud pattern accompanied by mosaic attenuation due to air trapping.
Cylindrical bronchiectasis of lower lobes
Dilatation of esophagus and hiatal hernia
VIRTUAL BRONCHOSCOPY:NL
PPD:NEG/BK:NEG
Sweat test:Nl
Immunologic test: Nl
Lab data:
Wbc:24300/neut:90%,lymph:10%
Mcv:50.9/RBC:5,600,000
Plt:605000
Bun:7/cr:0.7
Bronchiectasis
Bronchiectasis, a disease characterized by
irreversible abnormal dilatation and anatomic distortion of the bronchial tree, likely
represents a common end stage of a number of nonspecific and unrelated antecedent events.
patients presented with cough, tachypnea, wheezing, sputum production and failure to thrive. Clubbing was found in (33%) of the patients. Cyanosis and oxygen requirement were reported in (23%) of the patients. Hemoptysis was reported.
Bronchiectasis DDx
Pulmonary
Asthma
Kartagener
Foreign body aspiration
ABPA
Tuberculosis
Bronchogenic cyst
Prematurity
Cystic fibrosis
TEF repair
second congenital fistula
Reccurent fistula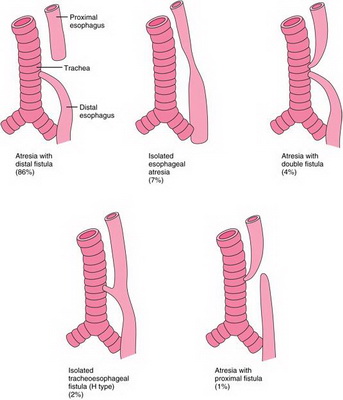 Most infants with EA with TEF have proximal atresia with distal TEF. They are easily diagnosed in the first days of life with apparent symptoms and findings and undergo surgical repair. Since two fistulas with EA occur very infrequently, proximal fistula may be overlooked during primary surgical repair. An undiagnosed proximal fistula shares the same clinical features with an isolated H-type fistula, which is usually diagnosed later, even in adulthood.
Although symptoms of an undiagnosed proximal fistula may include choking, coughing and recurrent respiratory tract infections, there may be long and asymptomatic intervals, which may be explained by the nature of the fistula. The contractions of the muscle wall of the fistula or the oblique direction of the fistula tract from the trachea to esophagus may protect the airway from aspiration of foods during swallowing.
Recurrent respiratory tract infections and wheezing are commonly reported in infants after primary repair, but become less frequent over time. Bronchiectasis is a very unusual complication.
Asthma is reported in nearly one-fourth of children with repaired EA and TEF. In our patient, late onset of recurrent bouts of pneumonia and wheezing resulting in bronchiectasis, unresponsiveness to anti-asthmatic treatment, incompatible with the diagnosis of asthma raised the possibility of a recurrent TEF or a second congenital fistula.
In the pre-operative period, although standard barium swallow failed to show the fistula, in the prone position confirmed the diagnosis. The presence of a TEF can also be demonstrated by three-dimensional CT scanning and virtual bronchoscopy. A dynamic radionuclide gastroesophageal scintigraphy with technetium- 99m showed a fistulous opening between the trachea and the esophagus .
Cardiac diseases:
Dextrocardia 
Congestive heart failure
Ventricular septal defect
Atrial septal defect
Pulmonary hypertension
Mitrale valve prolapse
Skeletal: 
Pectus excavatum
Scoliosis  Absent ribs  Marfan's syndrome
Immunodefficiency:
Hypogammaglobulinemia
SCIDS
Human immunodeficiency virus
Hyper IgE1
IgG subclass defficiency
Hyper IgM
Whiscott Aldrich syndrome
Common variable-Hypogammaglobulinemia
T-cell deficiency
Barre lymphocyte syndrome
Central nervous system disease: 
Cerebral palsy/ seizure disorder
Apnea  Craniosynostosis 
Cutis laxa/ developmental delay  Down syndrome/seizure  Fatty acid oxidation defect 
Other disease associations: 
Neuroblastoma 
Antithrombin III defficiency 
Corrosive ingestion  Liver cirrhosis  Ethmoid mucocele 
Discussion
All patients with confirmed bronchiectasis had the following tests done:
Respiratory cultures from sputum or from nasopharyngeal aspirates if unable to produce sputum for culture and sensitivity; PPD skin test; sputum for acid fast bacilli (AFB) stain and AFB culture, or gastric aspirates instead of sputum for children who are unable to produce sputum.
(PPD:NEG/BK:NEG)
barium swallow to rule out vascular ring or tracheoesophageal fistula (TEF):
barium swallow:NL
A dynamic radionuclide gastroesophageal scintigraphy with technetium- 99m canshowed a fistulous opening between the trachea and the esophagus.
sinus CT for those who presented with persistent rhinorrhea for
more than 3 months.
For patients who had family history of bronchiectasis, nasal brush by specialist (ENT) or biopsy of airway endothelium for electron microscopy to rule out immotile cilia syndrome was done.
Pulmonary function test was done for patients >5 years of age and able to comprehend to test maneuvers.
Associated diseases were investigated according to presenting symptoms or type of referrals. (For example, magnetic resonance or CT brain was done in patients with cerebral palsy or central nervous system abnormalities.
Sweat test: This test is done to see if your child has cystic fibrosis
Chest x-ray: A chest x-ray be used to check heart, lungs, and chest wall.
Echocardiography:
Heart disease
Result
1)second congenital fistula
2)Cystic fibrosis
3)Congenital lung disease
4)Esophageal atresia repair
5)Human immunodeficiency virus(HIV)
6)Immotile cilia syndrome
7)Tuberclusis
خانم دكتر مريم مخملباف
رزيدنت بيمارستان شهدا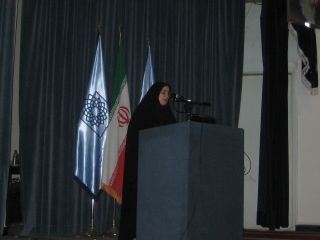 بسم الله الرحمن الرحیم
Problem list:
Cough and wheeze from neonatal
Increase in respiratory problem from 4 m ago
Hx of atresia and GER surgery
frequent pul infection
FTT
CT FINDINGS :
Segmental lower lobe collapse with cylindrical bronchectasia
Tree in bud
Neg important:
sweat test neg (1 time), smear TB neg,PPD neg, clubbing neg, immunologig? Neg
Approach to brochectasia with anatomic anomaly
Missing points:
ESR, HB, Alb ?
ABG?
Growth Index (Cilliary diskinesia)
Survey of GERD and barium meal after surjery
Immunodeficiency tests?
IgE , Prick tese? (sensitivity to Aspergillus)
BALL?
Stool Exam (Fatty stool)
Sweet test (one time only?)
Background problem
CF
GERD
Asthma
Cilliary diskinesia
TEF
(Other anatomiCdefects such as: Sequestration,
broncogenic cyst , Pulmonary agenesis)
Immunodeficiency
Acquired bronchial obstruction:(Middle lobe syndrome, CGD, granulomatose)
alpha-1 antitrypsin
9.
CF
Respiratory complications:
Recurrent bronchitis and pneumonia
Atelectasis
Bronchiectasis
Gastrointestinal complications:
Esophageal atresi
CT: Segmental lower lobe collapse with cylindrical bronchectasia
Tree in bud
Dx:
1)Sweat test
False-negative :hypoproteinemic edema
2) Mutation analysis
3)72-hour fecal fat measurement
GERD:
Complications: failure to thrive, or chronic/recurrent respiratory tract disease and anemia.
CT:
Segmental lower lobe collapse
cylindrical bronchectasia
Tree in bud
Complications of fundoplication include paraesophageal hernia, and wrap failure with recurrent GER
GERD contributes significantly to the respiratory disease (reactive airway disease) that often complicates EA and TEF and also worsens the frequent anastomotic strictures after repair of EA.
ASTHMA:

بهبود مختصر با برونکودیلاتورها:
افزایش حساسیت راه های هوایی
Cilliary diskinesia:
CT: Segmental lower lobe collapse
cylindrical bronchectasia
Tree in bud
TEF:Complications of surgery include anastomotic leak, re-fistulization, and anastomotic stricture.
Immunodeficiency: CGD, Combined
( only resiratory problems, No diarrhea, No mouth Trust, No abNL reaction to vaccina)
Acquired bronchial obstruction
Acute problems:
1.BOOP
2.ABAPA
3.TB
4.Infections: pertusis , measles
5. bronchiolitis obliterans
Idiopathic 25% chronic bac bronchitis
BOOP:
adenovirus, Mycoplasma, measles, legionella, influenza, pertussis, TB
CT:
Segmental lower lobe collapse
bronchectasia
Tree in bud and mosaic pattern
In intact lung or lung withbackground problems
ABAPA:
CF and Asthma
CT: Segmental lower lobe collapse
cylindrical bronchectasia
Tree in bud
TB
Congenital tuberculosis is rare because the most common result of female genital tract tuberculosis is infertility.
PPD :negative, BK : negative
GASTRIC WASHING?
خانم دكتر سولماز حسني
رزيدنت بيمارستان امام حسين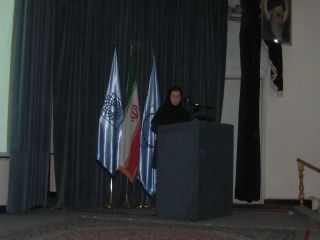 بسمه تعالی
هوالشافی
Radiologic Finding
CXR : straggly , Bilateral , Infiltration ,grand glass
CT: -segmental collapse -Tree in bud -Cylindrical bronchietasis -Dilation of esophagus and hiatal hernia
Bronchoscopy : NL Mass: negative Stenosis: negative PPD: negative Sputum: negative Allergy: negative
DH: Anti reflux , Anti Biotic , Bronchodilator
Wt=14.80 kg B.WT=2.350kg HC=33.5 cm
Problem list
A 6 years old girls presented with fever
Cough from birth day
Weight : loss
Confined cycle of infection
Reflux è operation in 1.5 years ago
CF :negative
Immunodeficiency state: negative
EA=operation
Spo2: low(in birth day)
Ph/E
Chest:
- inter costal refraction -Expiration phase in long more than inspiration phase
Lung auscultation:
- Generalized expiratory wheezing & bilateral crackles
Lab Data
Wbc =24300 Neut=90% lymph=10%
RBC = 5.6
MCV= 50
PH = 605000
Bun=7
Cr=0.7
DD
Complication of surgery :
Anastomotic leak -refistulization
-Anastomotic stricture
GERD complicates
Non-CF related Bronchictasis
.Bronchopulmonary sequestration (intralobar)
.Congenital anatomic defects:
-Williams- Campbell syndrome
-Mounier kuhn syndrome
.Acquired bronchial obstruction:
-middle lobe syndrome
Foreign body aspiration
.Abnormal secretion clearance
.Neuromuscular Weakness
.Primary ciliary dyskenesia (PCD)
Non-CF related Bronchictasis
Immunodeficiency :
-HIV
-Agammaglobulinemia
-SCID
-Digeorge syndrome
-CGD
Non-CF related Bronchictasis
Infection:
-Persistent bacterial bronchitis
-Pertussis and measles
-Mycoplasma pneumonia
-Adenovirus infections
-Mycobactrial infection
.Other disorder:
-Allergic bronchopulmonary aspergillosis
-Chronic aspiration of gastric contents
Chronic aspiration
Videofluoroscopy
Esophageal PH Monitoring
Nuclear scintigraphy
Imaging and bronchoscopy
Neurologic dysfunction
Missed point
Bal ?
Immunologic test ?
اهداي جوايز كتاب رباعيات حكيم عمر خيام به 4 رزيدنت
اقاي دكتر صدر
فلوشيپ ريه
اقاي دكتر مصلحي
فلوشيپ ريه

اقاي دكتر غفاري پور
فلوشيپ ريه

اقاي دكتر جفرودي
عضو هيئت علمي بيمارستان شهدا
خانم دكتر منصوري
فوق تخصص ايمونولوژي
عضو هيئت علمي بيمارستان مفيد