پروفسور محمد حسین سلطان زاده

استاد دانشگاه علوم پزشکی شهید بهشتی
متخصص کودکان ونوزادان
طی دوره بالینی عفونی از میوکلینیک آمریکا
دبیر برگزاری کنفرانس های ماهیانه گروه اطفال
دانشگاه علوم پزشکی شهید بهشتی


معرفی : دکتر فاطمه قطبی




به اتفاق اعضای هیئت علمی گروه کودکان


بیمارستان طالقانی


تشخیص
Celiac disease is an immune mediated enteropathy caused by a permanent sensitivity to gluten in genetically susceptible individuals
Celiac disease most affects people of Noethen Europe
It has been also doumented in Hispanics, Indians, Sudanese, Chinese and Middle East people
The most common period of presentation is between
6 mon-2yr of age
Celiac Disease in Iran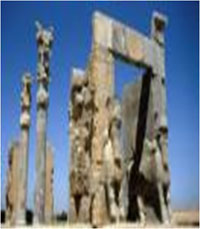 The prevalence of Celiac Disease among 2000 Iranian blood donors is one of the highest in the world (1:166).
Celiac Disease is a common finding among patients labelled as irritable bowel syndrome (11%).
Gastrointestinal ("classical")
Non-gastrointestinal ("atypical")
Asymptomatic
In assiciation with other conditions and mostly with:
Autoimmune disorders
some syndromes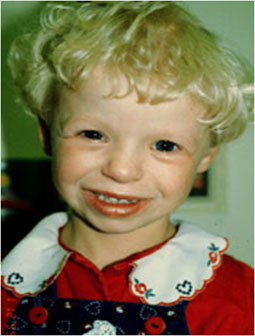 Celiac Disease Associated Disorders
Type 1 diabetes(3-10%)
Hashimoto,s thyroiditis
(4-8%)
Autoimmune hepatitis
(6-8%)
Adrenal failure
Down syndrome(4-19%)
Williams syndrome2-4%)
Turner syndrome(4-8%)
IgA deficiency(7%)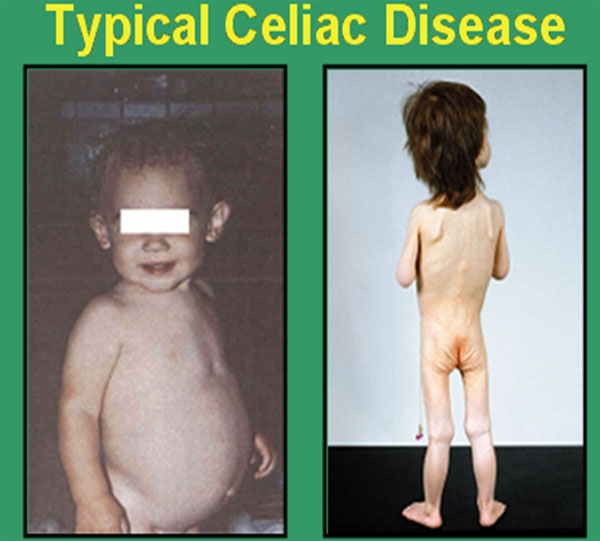 Diarrhea
FTT
Vomiting
Anorexia
These children are irritable, unhappy,
They are not interested in food
Pallor
Abdominal distension
Large bulky stool suggestive of constipation
Digital clubbing
Non Gastrointestinal Manifestations
of Celiac Disease
most common age of presentation: older children and adult
Dermatitis herpetiform
Dental enamel hypoplasia
Osteopenia/Osteoprosis
Short stature ~ 10%
Delayed puberty
Iron deficiency anemia
Resistant to oral Fe (5-8%)
Hepatitis(9% adult with high ALT,AST) have silent celiac disease
Arthritis
Epilepsy with occipital calcifications
Non Gastrointestinal Manifestations
of Celiac Disease
Selective IgA deficiency
Diabetes mellitus
Chronic rheumatoid arthritis
Thyroiditis
Hypothyroidism
Addison disease
Pernicious anemia
Alopecia
Lymphocyte gastritis
Pancreatic insufficiency
Silent latent
Latent: no symptoms, normal mucosa
May show positive serology identified by following in time
These individuals will develop at some point in time mucosal changes (+/- symptoms).
Silent: no or minimal symptoms,"damaged" mucosa and positive serology
Identified by screening asymptomatic individuals from groups at risk such: 1st degree relatives, down syndrome , type 1 dibetes patients etc.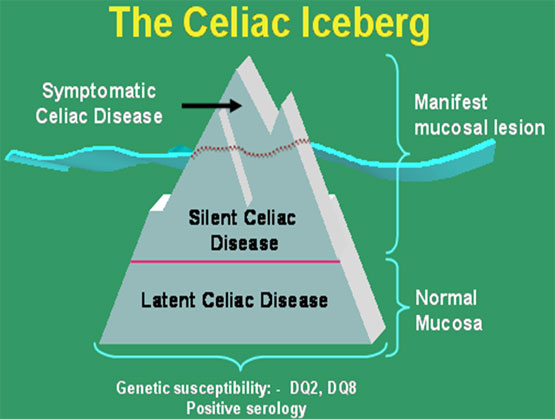 Screening tests for malabsorption may be normal
Microcytic or macrocytic anemia
(target cells, Howel-jolly bodies, Heinz bodies, siderocytes, irregular & cescent cells)
hypoproteinemia
Antigliadin antibodies (AGA)
Antiendomysial antibodies(EMA)
Anti tissue transglutaminase antibodies(TTG)
HLA typing
Role of serological tests:
Identify symptomatic individuals who need a biopsy
Screening of asymptomatic "at risk" individuals
Supportive evidence for the diagnosis
Monitoring dietary compliance
Antiglidin IgG antibodies (sensitivity 86%)
Antiglidin IgA antibodies (sensitivity 95.5%)
Advantages
Relatively cheap & easy to perform
Disadvantages
Poor sensitivity & specifity
False positive for antigliadin antibodies:
Cow,s milk protein, crohn disease, IgA nephropathy, eosinophilic enteritis, tropical sprue, dermatitis herpetiform
Atiendomysial antibodies
IgA based antibodies
advantages
(sensitivity 100%, specifity 98%)
Pv+ and ng- predictive value for antiendomysial antibody together with antigliadin antibody = 100%
Disadvantages
False negative in young children
Operator dependent
Expensive & time consuming
Tissue transglutaminase Ig A
advantages
(specifity 95-98% & sensitivity 92-94%)
Relatively cheap
Disadvantages
Fase negative in young children
False negative in IgA deficiency
Possibly less specific than EMA
IgG tTG ELISA
(in celiac patients with IgA deficiency)
Serlogic Markers
Tissue TG are available for:
Screening asymptomatic patients with type 1 diabetes, history of 1st degree relative with type 1 diabetes,and a family member with CD( ppv = 70-83% for biopsy evidence of CD
Serological Test Comparison
Serum IgA level
Individuals with IgA deficiency are at increased risk for CD.
IgA deficient individuals will have negative EMA-IgA,TTG-IgA
consider IgG based tests (EMA-IgG, &TTG-IgG) in IgA deficiency
ESPGAN recommendation
1969
Diagnosis should be confirmed by showing that the small bowel biopsy returned to normal 1-2yr after starting a gluten free diet and then rechallenge the patient with a gluten diet and repeat the biopsy to demonstrate the return the intestinal lesion.
ESPGAN Recommendation
now
For children > 2 yr is not necessary to rechallenge if the gluten free diet has produced resolution of symptoms & normalized the specific celiac disease serologies (EMAs, ab to Ttg)
For children <2 yr & when the diagnosis is in question, a rechallenge is recommended
The gold standard for diagnosis of CD is histologic confirmation
Genetic predisposition
Environmental triggers
Dietary
Non dietary?
HLA alleles associated with
Celiac Disease
DQ2 found in 95% of celiac patients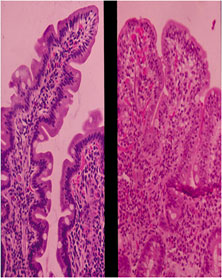 DQ8 found in remaining patients
DQ2 found in 30% of general population
Value of HLA Testing
High negative predictive value
Negativity for DQ2/DQ8 exclude diagnosis of celiac disease
Strong HLA association(B8,DR7, DR3, DQW2,)
98% patients HLA-DQ2, also found in 20-30% of controle
10% of patients have an affected 1st degree relative.
Concordance in monozygotic tweens is 70%
Concordance in HLA identical siblings 30-40% suggesting other genes involved.
Treatment
Only trearment for Celiac Disease is a gluten free diet(GFD)
- strict, lifelong diet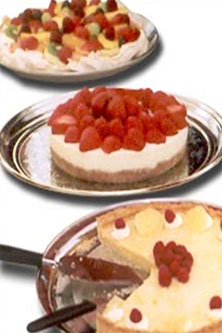 - Avoid
Weat
Rye
Barly
Prognosis
Within 1 wk of starting therapy:
Improvement of mood , appetite and lessening of diarrhea
Older and extremely ill children
Teenagers
Development of malignancy
No complications from long term gluten free diet treatment are recognized