پروفسور محمد حسین سلطان زاده

استاد دانشگاه علوم پزشکی شهید بهشتی
متخصص کودکان ونوزادان
طی دوره بالینی عفونی از میوکلینیک آمریکا
دبیر برگزاری کنفرانس های ماهیانه گروه اطفال
دانشگاه علوم پزشکی شهید بهشتی

SHIRVANI F. MD MS
KALANTAR MOTAMEDI M. MD
SHEIKHOLESLAM H. MD
RADFAR M. MD

به اتفاق اعضای هیئت علمی گروه کودکان
بیمارستان امام حسین
CHIEF COMPLAINT: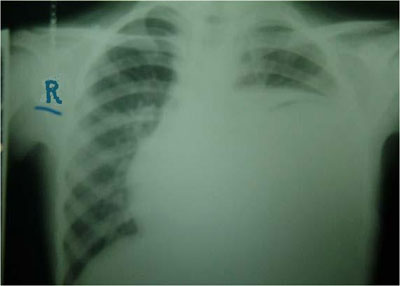 An 8 years old girl admitted at hospital in 82/01/19 with a chief complaint of fever, respiratory distress and night sweat
HOPI:
she had a history of two months of weight loss ,fever and night sweat which was under antibiotic prescription without significant improvement
She was the fourth child in the family from a mother G5P5Ab0 and the result of a NVD without complication.
She was from afganistan and had a long contact with a patient with TB , she lived near a sheep raising, no history of hospital admission , or specific illness, vaccination history was positive.
PH. E.
T= 38 C ORAL PR=110/Min
RR=33/MIN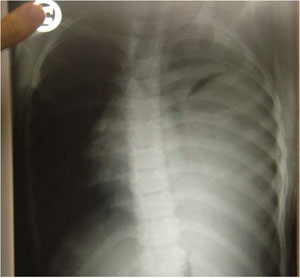 BW=19KG
General appearance was good .
Head and neck=normal. No adenopathy
chest = heart sounds were normal, full dullness on left lower chest and decrease of the breath sounds was apparent .
Lab investigations:
CBC DIFF , ESR, CRP , BS , CA,ELECTROLYTES ,Urea,Creatinine U/A , U/C , B/C , ABG , ELIZA IgG AND IgM for echinococcus granulosus
Needle aspiration of fluid
CHEST X RAY , CHEST CTSCAN
Abdominal sonography
WBC =9100/mm3 poly=54%,lym=44%,Eos=1%,
mono=1%,plt=607000,ESR=123
BS,UREA,CREATININE=NL
NA,K,CA,P,=NL
CRP=3+
U/A , U/C , B/C =Neg , ABG=NL
Elisa for echinococcus IgG AND IgM=Neg
Aspiration of fluid results: LDH=40,PRO=10,SUGAR=30mg/dl and smear and culture was negative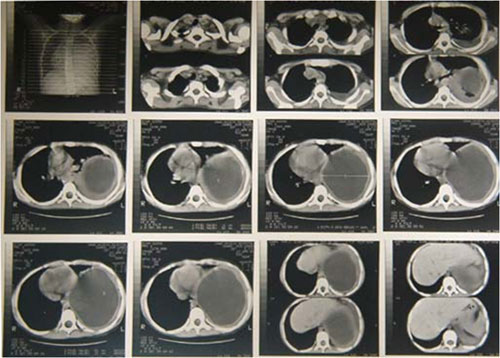 CHEST X RAY:
Homogenous opacity on left lower lobe that obscures the diaphragm and causes the shift of trachea and heart to the right ,a crecentric shadow is seen at the top of the opacity that suggests its CYSTIC NATURE, CTscan of thorax was recommended .
CHEST CTSCAN: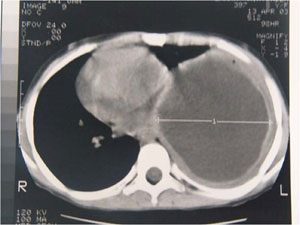 In the posterior left hemi thorax there was a big cystic mass with thick layer and pleural thickness , it seems it is an encapsulated empyema.
Abdominal sonography was normal.
Other investigations:
PPD=NEG
three times gastric lavage for BK was negative

What is the patient's possible diagnosis?