پروفسور محمد حسین سلطان زاده

استاد دانشگاه علوم پزشکی شهید بهشتی
متخصص کودکان ونوزادان
طی دوره بالینی عفونی از میوکلینیک آمریکا
دبیر برگزاری کنفرانس های ماهیانه گروه اطفال
دانشگاه علوم پزشکی شهید بهشتی




معرفی : دکتر

سهیلا خلیل زاده






به اتفاق اعضای هیئت علمی گروه کودکان


بیمارستان مسیح دانشوری


تشخیص
Causes of Hemoptysis in Children
Infection
Tracheobronchitis
Pneumonia
Bacterial
Tuberculous
Fungal (e.g., aspergillosis)
Parasitic (e.g., echinococcosis)
Tracheostomy-related
Bronchiectasis
Cystic fibrosis
Ciliary dyskinesia
Immunodeficiency
Foreign body
Congenital heart disease (mainly with pulmonary vascular obstructive diseases )
Pulmonary arteriovenous malformations
Trauma

Alveolar hemorrhage syndromes
Connective tissue disease/vasculitis

(e.g., Goodpasture syndrome, Wegener granuloma)
Primary pulmonary hemosiderosis

(e.g., idiopathic, Heiner syndrome)
Pulmonary thromboembolism
Tumor

Bronchial adenoma
Metastatic
CAUSES OF PULMONARY HEMORRHAGE AND MASSIVE HEMOPTYSIS IN PEDIATRIC PATIENTS
Differential Diagnosis of mediastinal Calcification
Pulmonary Inflammatory Pseudotumour
Posterior mediastinal masses ganglioneuroblastoma
Posterior Mediastinal Schwannoma
Alveolar Rhabdomyosarcoma
Histoplasmosis
Lobar Consolidation,
Hilar Adenopathy,elevated ESR
Tuberculous
lymphoma
Hamartom
benign and malignant lymphoproliferative lung disorders
reactive pulmonary lymphoproliferative disease
primary and secondary pulmonary lymphomas
Wegener's Granulomatosis
Lobar Consolidation,
Hilar Adenopathy,elevated ESR
Mycoplasma pneumoniae (LLL)
Pulmonary Sarcoidosis (LLL)
Esophageal tuberculosis (vomiting, cough, low-grade fever and anorexia / positive mantoux / history of contact to Tuberculosis/ Upper Gl scopy / an irregular ulcer / consolidation left lower lobe / hilar and mediastinal adenopathy. )
Lymphomatoid granulomatosis (elevated ESR and LDH)
Bronchoscopy & Biopsy
Imaging
…
Tuberculous
tuberculous lymphadenitis
Esophageal tuberculosis
Lymphoma
germ cell tumor
Pulmonary Inflammatory Pseudotumour
Hamartom
Wegener's Granulomatosis / Goodpasture syndrome
Treatment
The patient treated with the diagnosis of pneumonia (Ceftriaxon and Erythromycin ) for 10 days.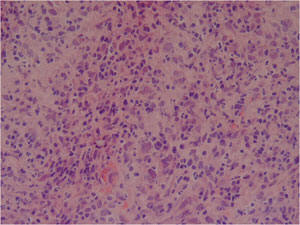 No improvement was observed in clinical and radiological findings.
Diagnostic plan was performed.

Bacterial causes of pneumonia
Immunocompetent Immunocompromised
- S. pneumoniae -Pseudomona
- H. influenza - Enterobacter
Staphylococcus. A - Legionella
Bordotella pertussis - Nocardia
Moraxella. C - Anaerobic
Mycoplasma. P
Chlamydia. P
Pneumonia in Child over 6 year of age
Mycoplasma .P
( walking pneumonia or atypical pneumonia)
S. Pneumoniae
Chlamydia Pneumonia
(walking pneumonia or atypical pneumonia)
Causes of Hemoptysis
Bronchiectasis
CF
Bronchopulmonary aspergilosis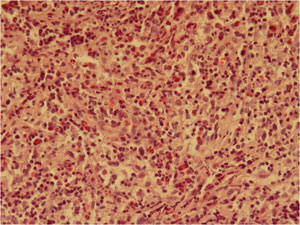 P.C.D
TB
Lung abscess
Neoplasm
Retained foreign body
Pulmonary sequestration
Vascular anomaly
Unusual pneumonias
Immunodeficencies ( Primary or AIDS )
Malignancy
Inflammatory Disease ( CTD )
Opportunistic organisms should be suspected.
( virus, fungi, bacteria, NTM )
Tissue diagnosis is needed
Mediastinal and hilar node enlargement
Infection
Bacterial
Fungal
TB
Malignancy
Leukemia
Lymphosarcoma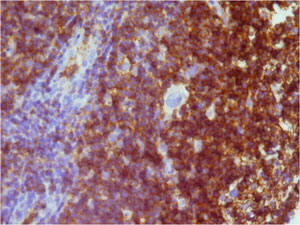 Sarcoidosis ( Bilateral )
Primary Mediastinal Masses in Infants and Children in NRITLD
A retrospective study was performed on 45 children with mediastinal mass in NRITLD.
60% were boys and 40% were girls with mean age of 8 year.
61% of the masses were malignancy in boys and 39% in girls.
Anterior mediastinal region was the most common site of involvement.(84/4%)
The most common diagnosis was malignancy (82/2%) and 67/3% were Hodgkin Lymphoma.
The second diagnosis was Lymphoblastic T cell Lymphoma.
Mediastinal Masses
Research in NRITLD Text book
Hodgkin Lymphoma (57.7%) Neoplasm of thymus
Lymphoblastic Tcell Lymphoma (17%) Thymic cyst
Non Hodgkin Lymphoma (8.8%) Benign cystic teratomas
Bronchogenic cyst (6.6%) Lymphoma
PPNET (4.4%) Teratoides (carcinoma)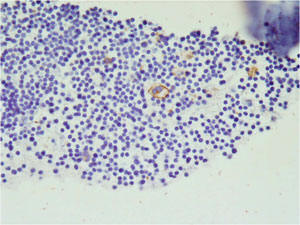 Neuroblastoma (2.2%) Vascular lymphatic abnormalities
Shoanoma (2.2%)
Thymoma (2.2%)
Cardiac Tumor (2.2%)
Mesanchymal Hamartoma (2.2%)
Lymphangioma(2.2%)
Diagnosis performed by lymph node excetional biopsy
Final Diagnosis :
Hodgkin Lymphoma