پروفسور محمد حسین سلطان زاده

استاد دانشگاه علوم پزشکی شهید بهشتی
متخصص کودکان ونوزادان
طی دوره بالینی عفونی از میوکلینیک آمریکا
دبیر برگزاری کنفرانس های ماهیانه گروه اطفال
دانشگاه علوم پزشکی شهید بهشتی



معرفی : دکتر فریبا شیروانی

فوق تخصص عفونی اطفال
به اتفاق اعضای هیئت علمی گروه کودکان
بیمارستان امام حسین


تشخیص
Urine 24 hours
Volume 600 cc

Calcium 29mg/24hrs 50-300

Phosphorus 138 mg/24hrs 40-100

Na 51meq/24hrs 130-260

K 36meq/24hrs 40-80

Cl 55mmol/24hrs 110-250

Protein 108mg/24hrs 20-150

Citrate 38mg/24hrs 296.8 - 911.6

Oxalate 40mg/24hrs male=29-85
female=29-79

Creat. 126 mg/24hrs 600-1800
Bone marrow result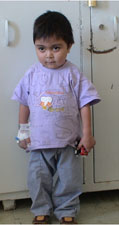 Diagnosis:
Bone marrow aspiration
Some leishman body organism identified in the background
Bone marrow biopsy
Visceral leishmaniasis
Closer view from previous image

Microscopic appearance of bone marrow aspiration * 40

Hyperplasic bone marrow full of precursors between bony spicles

Leishman bodies are in the macrophage and scattered in marrow field

Atlas view of leishman bodies in macrophages
Differential diagnosis
Infectious causes
Subacute infectious endocarditis

Tuberculosis

Typhoid fever(prolonged salmonella bacteremia)

brucellosis

typhus

Chronic Malaria

Amebic liver abscess

Hepatosplenic schistosomiasis

Disseminated fungal infection:histoplasmosis

Infectious mononucleosis
Hematologic causes
Hodgkin disease

acute aleukemic leukemia

aplastic anemia
Etiology of stone formation
1- endemic stones(bladder stone)
2 – metabolic disorders
Hypercalciuria

Hyperoxaluria

Hyperuricosuria

Cystinuria

Xanthinuria,ect.
3- decrease of inhibitors
Citrate

Magnesium

Pyrophosphate

Glycosaminoglycan

Nephrocalcin

Osteopontine

Protrombin fragment-1
4- disease related
Prematurity

IBD

CF

RTA

MSK

ADPCK

GSD1

Cystinosis

antibiotics
5- infection
Urease positive

Corinebacterium urealiticum
6- anatomical disorders
Congenital anomalies

Foreign body

Surgical
7- medication
Drugs and metabolites
Metabolic effects
Treatment
Diet
Hydration
Medication
Surgery
Visceral leishmaniasis
Etiologic agents: leishmania donovani,leishmania infantum/leishmania chagasi
Sometimes cutaneous leishmaniasis / amazoneinsis and tropic can be visceral
Variation in intensity of involvement
One extreme
In apparent , self resolving
Ratio of 6.5/1 to 18/1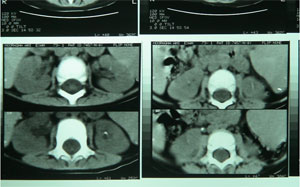 Classic (kala-azar)(dumdum – assam – infantile splenomegaly)
Fever,weight loss,hepatosplenomegaly, anemia ,leukopenia, trombocytopenia, hypergamaglobulinemia and in indian , hyperpigmentation
A small percentage of patients who have been treated for VL will have diffuse skin lesions called post kalaazar dermal leismaniasis
Hypopigmented,erythematous and nodular on face and troso and persists for several months and years.
Epidemiology
90% in india,bangladesh,sudan,brazil
L. donovani is responsible for visceral leishmaniasis in eastern india
and bangladesh
L. chagasi for Visceral leishmaniasis in latin america
L. lnfantum is endemic in mediterranean region
L. tropica in middle east
Transmission
Vector=sand fly (phlebotomus argentipes)
Suitable reservoir= human , dogs , rats , gerbiles , small carnivores
Susceptible human
Other routes
Contaminated blood
Accidental needle stick
Sharing of contaminated needle
prenatal
Pathogenesis
Environmental and genetic characteristics of host determines
severity of his disease
Components of immunity involvement in kala-azar
Leishman specific CD4 t CELLS ☻
T helper cells that secret INF GAMA and interleukin-2☻
IL10,IL4,TGF- BETA
INCUBATION PERIOD
3-8 months or longer than a year to 10 years
reactivation years after treatment may occur
Clinical manifestation
Fever( intermittent , twice daily )
weight loss, cachecsia
Abdominal enlargement due to hepatosplenomegaly and insidious
Rare cases with chill not rigor
Skin is dry and thin and scaly and hair may be lost and hyperpigmentation
Extremities edema is in malnourished children and echymosis
Epistaxis and gingival bleeding
hemorrage
Renal complications
microscopic hematuria usually mild
albuminuria
albuminuria of leishmaniasis is due to focal leishmanial lesions, analogous to focal nephritis in bacteremias, and not to fever. In fatal cases, parasitized macrophages may be seen in the interstitial tissues of the kidneys.
chronic renal insufficiency during convalescence from kala-azar, presumably from toxic effect of pentavalate antimonates.
renal involvement
The kidney lesions are characterized more by interstitial damage than glomerular or vascular damage.
nephrotic syndrome associated with heavy proteinuria
The renal biopsy revealed a segmental necrotising glomerulonephritis with 70% crescents.
In human VL, glomerulosclerosis, mesangial cell proliferation, and interstitial nephritis have been reported
Advanced visceral leishmaniasis
Secondary bacterial infection
Pneumonia
Septicemia
Tuberculosis
Dysentery
measles
Visceral leishmaniasis in HIV
Splenomegaly may be absent
Patients may have involvement of lung , pleura ,oral mucosa , esophagus , stomach , small intestine , skin , bone marrow , aplastic anemia
Diagnosis:
Clinical
The diagnosis of leishmaniasis is suggested by a history of possible exposure in endemic areas and by such clinical manifestations as
(1) prolonged intermittent fever, frequently with double daily peaks;
(2) enlargement of the spleen or lymph nodes or both with, in some cases, enlargement of the liver;
(3) leukopenia;
(4) anemia; and
(5) elevation of serum globulin
Confimation
Splenic and lymph node aspiration and biopsy and wright-giemsa stain
Culture of splenic and bone marrow aspiation or blood in N.N.N media
Serum antibody
ELISA using recombinant k39 a kinesin-like antigen
Leishmanin skin test(montenegro)
Is negative in visceral leishmaniasis and has epidemiologic importance
laboratory
Anemia may be sever
Hemolysis,marrow replacement,splenic sequestration of erythrocytes,hemodilution,TNF ALFA
Leukopenia
Hypergamaglobulinemia(Alb<3 and IgG >5 or 5-10bg/dl)
ESR usually elevated
Elevated liver transaminases
Mostly Kidney shows immune complex deposition (mild glomerulonephritis)
Treatment:
Liposomal amphotericin (ambisome) can be the choice
3mg kg /1,5,14,21 days
Adverse effect:fever,loss of appetite,hypokalemia,azotemia,renal tubular acidosis trombophlebitis,weight loss ,hearing loss,diplopia,seizure, peripheral neuropathy,anaphylactic reaction
Amphotericine B deoxycolate is another choice
Pentavalent antimony can still be used but is not recommended in india because of 40% resistance
Adverse effects are abominal pain,anorexia,vomiting,nausea,myalgia,arthralgia,headache,malaise,pancreatitis,renal failure,ECG abnormalities
Pentamidine isethionate
2-4mg/kg for 15 days
Adverse effects:Life threatening hypoglycemia by pancreatic beta cell injury
Miltefosine (phosphocoline analogue)
2.5 mg/kg/day for 4 weeks
Parenteral parmomycin
Ketoconazole,imidazole,itraconazole
Prevention of renal damage
Use of allopurinol in cannine leishmaniasis prevented the progression of renal damage by improvement of proteinuria and azoemia
It is used with pentavalent antimonials
Response to therapy
Return of temperature to normal
Brisk reticulocytosis
Gradual reduction of spleen size
Reappearance of eosinophiles in peripheral blood smear
Follow up:
Monitor every 6 months for 2 years
Antibody is absent 1 year later
If post kala_azar dermal leishmaniasis occur treatment should be reinstituted
Thank you any comments
Fuadin (stibophen). All were ultimately treated with Neostam (stibamine glucoside), Neostibosan (ethylstibamine), or stibanose (sodium antimony gluconate, 20 mg. antimony per centimeter) in one or more courses of one or more of these pentavalent compounds. Two failures were re-treated, successfully, with stilbamidine (4, 4'-diamidinostilbene isethionate).
tartar emetic (potassium or sodium antimony tartrate) may be attempted. A satisfactory dose schedule is as follows: First day, 10 cc. of freshly prepared 0.5 percent solution; third day, 20 cc.; fifth day, 30 cc., and this repeated every other day until a total of 360 cc. (1.8 gm.) has been given.
Neostam 5.0 and
Neostibosan 10.0 gm
stilbamidine 4.0 gm.